Feel free to download and use any of the resources below.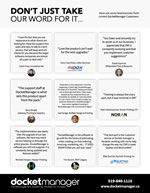 Testimonials One-Sheet
Don't just take our word for it... This PDF includes testimonials from current DocketManager Customers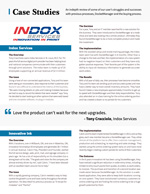 Case Studies One-Sheet
This PDF includes an indepth review of some of our user's struggles and successes with previous processes, DocketManager and the buying process.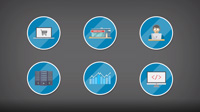 DocketManager 30-Second Commercial
This mp4 video is an animated commercial with more information about our MIS and W2P.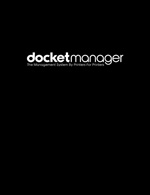 DocketManager Informational Brochure
This PDF contains information on our company, our product, and new features we have implemented the past year.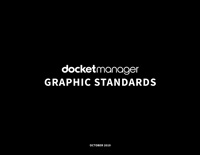 DocketManager Logo & Graphic Standards Manual
This zipped folder contains out logo in various formats as well as our Graphic Standards Manual. Please read through this manual before using our logo in any material.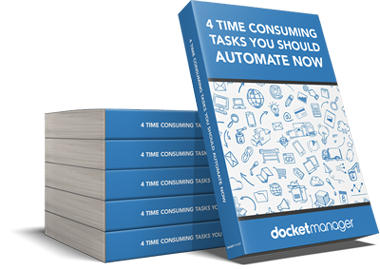 Free E-Book: 4 Time Consuming Tasks You Should Automate Now
The need to automate your business and be able to manage it from absolutely anywhere is key to creating a stable and long lasting business. So, how can you accomplish this without shaving years off your life, or without losing your hair? The simple answer is automation, but where do you start? In this free e-book we are going to unveil the 4 secrets to success that we wish we would have known when we were in your shoes.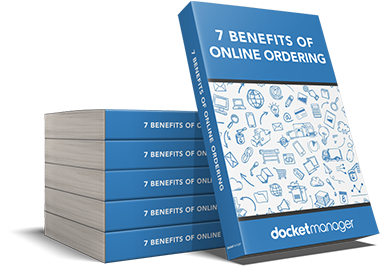 Free E-Book: 7 Benefits of Online Ordering
The key to running a successful company is keeping up with the technology available in the industry. For the most part, printers are great at keeping up with the latest print and finishing technologies to produce better products faster. However, where many printers stumble is actually committing to implementing technologies that will help sustain and grow the business both short and long term.
If you own or operate a print shop, you need to look into the value of having a leading-edge online ordering portal. This free e-book contains the top 7 benefits of offering an online portal to your customers.